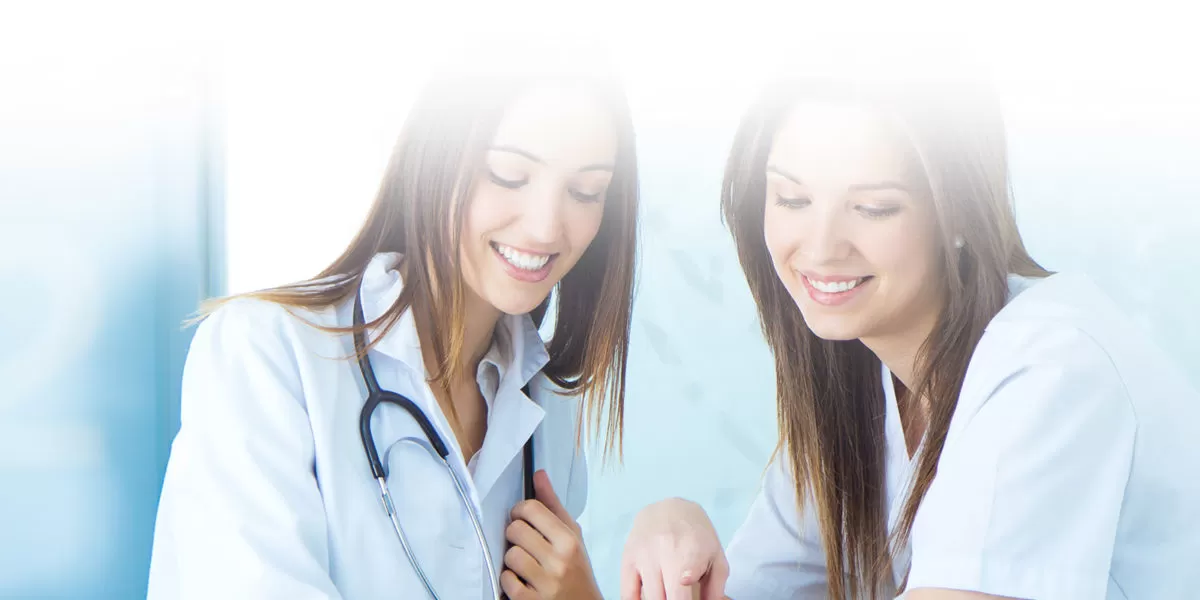 ICPF MED / ICPF MED PLUS
ICPF(Intercultural Program for Freshmen)-Med/Plus is an equivalence program, designed for Medical doctors from EU, with longterm visa for Germany or for Non EU countries (compare with table below).
The program prepares foreign medical doctors & dentists* for medical language exam (Fachsprachprüfung). The preparation for knowledge exam (Kenntnisprüfung), called MAP Program, can be booked separately.
*Dentists are prepared until Fachsprachprüfung and need to work as assistant dentists to gain enough practical knowledge before appearing for the Kenntnisprüfung.
ICPF MED / ICPF MED PLUS program is offered in two formats:
ICPF Med for 15 months

ICPF Med 15 months is for Europeans or foreigners with longterm visa

ICPF Med plus for 9 months

ICPF Med Plus 9 months is for non-Europeans, German B1 certificate (Goethe Institut, Telc or ÖsD) obligatory
How to do further specialization in Germany?
Any foreign medical doctor who have completed their medicine studies (minimum 5 years) in a non-EU country must undergo two exams in Germany in order to get recognized as a medical doctors/dentists in Germany. (Exams are conducted by the respective Ministry of Healthcare in cooperation with the concerned Medical or Dental council of that particular state). The exams if cleared successfully is valid across all German states. Candidates doesnt need to repeat the exam(s) in other states.
Exam 1. Fachsprachprüfung:– A language based medical exam where the student's medical skill is tested via the language).
Exam 2. Kenntnisprüfung: – A Viva exam combined with practicals (depends on the examiners), where the student's medical knowledge is proofed to see whether his or her knowledge is equivalent to a German medical student (human medizin). This exam is also known as Approbation exam or Equivalence exam.
During ICPF Med coursework itself, students can apply for the Fachsprachprüfung (without having a job offer) in the state of Mecklenburg-Vorpommern as they are registered students of the college/university and are living in the state. The Fachsprachprüfung date more or less coincides with the internal exam (Telc Certified) of ICPF Med Program thereby students do not loose time by waiting for the exam date.
Fachsprachprüfung: ICPF Med prepares students for the Fachsprachprüfung (sometimes called in short FSP or FASP). This exam is of 3 parts with each 20 mins. First 20 mins for patient handling i.e. patient-doctor conversation, next 20 mins is to explain to other colleagues i.e doctor-doctor conversation and the final 20 mins is for case sheet writing. The whole exam is in German. Only by passing this exam a foreign medical doctor can gets a temporary work license with which can now start working in hospitals and parallely prepare for the approbation exam (Kenntnisprüfung) or can now continue further to prepare for the exam 2 (i.e Kenntnisprüfung).
Note:
A) the examiners are mostly medical person and the questions would be more related to the medical field than the language component.
B) The Fachsprachprüfung is conducted by each and every German State via their respective Healthcare ministry or Medical/Dental council. So in order to determine which state conducts the exam, it is important to get a job offer from hospital/clinic in that particular state, only then can apply for the Fachsprachprüfung. Also the time taken to get an examination date (4-8 months) & vary from state to state. But there is an exception to the rule if the candidate is living in a particular state for more than 6 months, then can apply for the exam as well as for the Kenntnisprüfung exam without having a job offer.
C) Upon completion of the Fachsprachprüfung its valid across all German states so candidates do not have to repeat the exam if they wish to change the state. Then they need to write only the Kenntnisprüfung in that state.
So in order to pass the exam one needs to be well versed in the German language, should be able express medical terminologies and explain patient, colleagues & write down the diagnosis, should be familiar with the german medical system and the german culture, German history.
This ICPF Med coursework is framed such that foreign medical doctors familiarize with the German health care system, day to day work life as a medical doctor in a German hospital, correspondence among doctors, nurses and patients and with writing of case sheets.
Kenntnisprüfung: The Knowledge Exam or approbation exam is the second exam which a medical doctor or a dentist must pass to gain a permanent license to work in Germany. With this license the candidate can now start the further specialization by working as a assistant doctor. Every hospital can provide certain years of training in a particular field of specialization.
exam art: usually takes half a day and is practical and viva combined. Candidates are asked to examine a real patient at the hospital in the presence of the panel of examiners. Upon completion a viva session is planned where the examiners would be asking questions from any field of medicine.
Medical fields: Student must be well versed in Internal medicine, Surgery, Pharmacology, Emergency medicine, Urology, Clinical pathology etc.
MAP- Medical Approbation Preparation module of ICPF MED is framed so that all the topics which are necessary for the Kenntnisprüfung are covered (Internal medicine, general medicine, surgery, clinical pathology, emergency medicine, pharmacology etc). Note: This is the last module which will be taught to students prior to the exam, as here its very important that the students are well versed in German language and medical terminologies as only then they will be able to understand and pass the exam. As modules are fields based and exams are conducted regularly and no time could be spent on the language or the understanding part of a specific term.
ICPF MED stresses candidates to concentrate on the language, medical terminologies very seriously and also provide family contacts, language evenings, intercultural classes etc.
Dental fields: The following tasks have to be solved on the phantom head: tooth / teeth prepared for crown, polishing, amalgam filling, root canal treatment, filling. Important questions will also arise on prevention, prosthetics and orthodontics. X-ray machine must also be operated and analyzed during the exam and proper instructions to the assistants must be given.
Doctors have to Undergo 2 exams in order to get Recognised as a Medical Doctor/dentist in Germany-
Fachsprachprüfung and Approbation (Kenntnisprufung) Exam
ICPF MED / ICPF MED PLUS (15 months course)
During the first 9 Months of the course- Students are taught
German Language A1 to C1
Medical Language/terminology and Healthcare training
Hospital Observatory-ships
Social & Cultural integrationTelc C1 Medizin / Fachsprachprüfung

 

(coincides with the end of the ICPF-MED course)Upon successfully completing the TELC C1 Medicine & or Fachsprachprüfung exam students can continue to complete the Kenntnisprüfung (preparation via the MAP module) or get a temporary license to practice (need of pass Fachsprachprüfung exam). A maximum period of 2 years is allowed to clear the Approbation Examination/equivalence exam to forget the permanent license.
ICPF Med /  ICPF Med Plus offers a wide range of medical modules. It combines theory with practical relation.
The German Language will be taught from basics to advanced and participants benefit from special training in medical terminology.
Much more than a language program: Intercultural integration, industry visits (e.g. medical companies) and observerships in hospitals belong to ICPF Med as well as an especially for foreign medical doctors designed medical module

Curriculum Highlights
German Language + subject-related language
Medical Module
Observerships in hospitals
Intercultural Module
Fachspracheprüfung & Kenntnisprüfung preparation
Final exam
Upon clearing the final exam at the end of ICPF Med, students must also complete atleast the first exam the Fachspracheprüfung exam in order to start a job as Assistant doctor/dentist. Even if a student has a Job offer prior to the examination but cannot join it unless otherwise a temporary work permit (Berufserlaubnis Befristet) is issued. To issue this, minimum the Fachspracheprüfung must be completed successfully.
Note: In certain states the waiting time for the exam may vary anything between 3-8 months. So candidates must be well aware of it and also need enough living costs to cover the period as they are not allowed to do any part time or full time work.
In ICPF MED coursework the application for the Fachspracheprüfung as well as Kenntnisprüfung is included. So coursework is framed in such a way that each level of course matches with the waiting time for the exams from the healthcare ministry. For eg: Upon completion of the TELC Medizin exam students are now ready to do Fachspracheprüfung. And after completion of MAP students can now appear for the Kenntnisprüfung.
Upon completion of the Kenntnisprüfung the students are eligible to start their further specialization (Facharzt weiterbildung). Note: The time spent during temporary license is not counted for the Facharzt. This is also one of the reason why ICPF MED preparation for the Fachsprache- und Kenntnisprüfung preparation is consecutive thereby the students do not loose time.
German language
Technical related subjects (Physics, Mathematics)
English
Social and cultural program
The final exam which allows studying at Universities of Applied Sciences in Germany (subject as per students´ choice)
Eligibility:
Students with a minimum Bachelor of Medicine (MBBS) or Diploma in Medicine/Surgery or Dentistry are eligible to enroll for ICPF – Med. In addition a medical registration stating that the candidate have the permission to work as a doctor in the country of medical studies or country of origin is required.
Procedure:
To enroll, all required application documents should be sent to us to admissions@iaos.de, in proper formats (notarized documents, as single pdf files) along with our completed application form. It is important that the students follow the rules and guidelines set forth by IAS College for a smooth and fast processing. Incomplete documents or documents other than in the prescribed formats will disqualify you from the admission process.
Deficit letter from the ministry of healthcare:

Students must also fill in the application for the examination at the Ministry of Healthcare. The filled application & some of the important documents (translated in German) are sent across to the ministry of Healthcare. The ministry issues a deficit letter stating that the student is a recognized medical/dental candidate in his/her country of origin/study and upon completion of the ICPF Med program eligible for the examinations.
 Note: The admission letter and deficit letter are must for th
Frequently Asked Questions
Can I work in hospitals during the coursework?
Starts once the student's are familiar with the basic German and medical curriculum is completed. Students visit hospitals and get direct hands on experience on various matters involved in the everyday life of a Medical doctor (Patient Room, Operation theatre, Hospital System, different fields familiarizing it etc., but they do not handle patients directly or prescribe medicines but can observe during this period). Note Observerships can be provided to students only after the completion of B2 level of General German and the Medical module.
Intercultural module
An important additional advantage is the module of intercultural integration. Quite often students are not aware of the importance of learning how the other culture works. Without knowing patient's cultural background and the history of the nation it is very difficult to warm up to patients. Actually it is very important for communication with Germans, for daily life and overall for prosperous studies and career
Furthermore at the campus in Schwerin, the ICPF Med students get the campus feeling and have higher chances to interact with other students/professors from the other programs & other cultures.
Internal final exam
All students go through the final TELC C1 Medizin exam (here you can add a hyperlink which leads to how IAS College is a TELC Center) which is an indirect preparation for the Fachspracheprüfung. This C1 medizin can also be used if a student chooses to study further masters. For passing the final exam it is necessary to complete each module of the curricula successfully.
In case of foreign medical graduates, the candidate needs to apply for a Ph.D position to a medical university and do his/her Ph.D. Depending upon the field (clinical or non-clinical) a licensing is required to do Ph.D.
Who can apply?
Medical Doctors/ Dentists having a bachelor degree or a diploma in Medicine/Dental & Certificate of Registration stating that he or she is allowed to practice medicine/dental in his or her home country/country of study..
What is included in the course fees?
The Course fees for ICPF-Med include the following:

– Tuition fees
– Study materials
– Medical German
– Observership
– Industrial Visits
– Examination fees (Final exam) Application assistance for Fachsprachenprüfung & Kenntnisprüfung
– Integration and Social Programs
– Care and Assistance
– Celebration Day during december (Weihnachtsfeier)

For ICPF Med and ICPF Med Plus course fees do contact us or our local representatives in your area (Here you can insert our enquiry form link)
Can I work in hospitals during the coursework?
No, but observerships are allowed and belong to the coursework. Observerships in German hospitals are an important part during ICPF Med. Students after completion of the Medical vocabulary and the medical system module and with sufficient level of German (B2) will be eligible for the observerships.
Upon completion of the program am I eligible to work?
Medical Doctors from abroad have to clear an exam required as per "Gesundheitsministerkonferenz" (Fachspracheprüfung and Kenntnisprüfung) if they plan to work in a German hospital. Now if a foreign Doctor (not WHO black listed countries) wants to do super speciality (Facharzt) in Germany or do his MD specialization then, there is only one way: Work in a Hospital as Assistant Doctor for 6 years and then can appear for the Facharzt Exam. No university studies or residency programs exists in Germany.
Can I use the Dr. title in front of my name (Short form for medical doctor)
No. In general when a medical student in Germany wants to get a "DR. Med´´ title, he/she needs to do a Ph.D. This Ph.D unlike regular can be done along with their Medical studies. At the end the student must submit a thesis & an extra exam (Successfully defend his/her Ph.D) then can get a Dr. Med title.
In case of foreign medical graduates, the candidate needs to apply for a Ph.D position to a medical university and do his/her Ph.D. Depending upon the field (clinical or non-clinical) a licensing is required to do Ph.D.
How long will I be issued a Visa?
The visas obtained from a embassy or a consulate is normally for 90 days and upon reaching Germany it will be extended till the end of the coursework, costs will be around 100€ borne by the student..
Do I need Prior German language to join the program(s)
For joining ICPF MED plus, students need to have minimum B1 level of German (Only Goethe, Telc or Ösd certificates are accepted. Participation certificate at other language schools are not accepted. Students then need to apply for the longer version ICPF Med (15 months) and if they successfully complete one of the three above language exam will be automatically converted to ICPF Med Plus coursework. In some cases students can also appear for our internal B1 exam conducted at our campus upon arrival in Germany).
For the longer version of ICPF Med (15 months) students are highly recommended to start learning basic german language, about germany and about the program.
Do I need to prove my English Proficiency even though I studied completely in English?
Yes. English proficiency test results needs to be provided (IELTS, PTE, Cambridge Test, Toefl etc.). This is to prove that the student is able to communicate in one foreign language without a problem. If the student also has proficiency in German (B1 level) & could speak and understand, the english results are not necessary anymore.
Does the college provide hostel facilities?
IAS College organizes accommodations when applicants send their filled application request form at the latest two weeks before arrival in Germany to IAS College Student office (Accommodation form link).
What is expected of students?
Only qualified & highly motivated students who want to do their further studies in Germany should apply for ICPF.
All students must attend our Skype Interview to prove their individual skill and motivation to study on then the admission letter is issued. Also a certification is issued which can also be produced during your Visa interview, which might be helpful for the interviewer.
Students must be well aware
1. about Germany
2. about German language (highly recommended to learn minimum some levels as during the waiting time from application till visa process students can actually complete some levels in the home country itself).
3.about the coursework
4.after studies what are their plans