What is a Vocational Training in Germany?
Dual Vocational Training is a program that comprises theoretical as well as practical elements that gives one a real head start into their job. Vocational Training usually lasts between two and three and a half years and offer plenty of opportunity for on-the-job training and work experience. During the program, One would spend one or two days a week, or several weeks at once, at a vocational school (called Berufsschule) and will acquire the theoretical knowledge that one will need in their future occupation. The rest of the time will be spent at a company and one will get to know what the company does, learn how it operates and gets a chance to apply their newly acquired knowledge in practice and also find out if they can see themselves working there after completing their training.
By Pursuing a dual vocational training program the employment prospects in Germany is very good.
Stages of Vocational Training
Vocational Training comprises Maximum 6 months of pre-program classes at our school and 3 years of on-the-job training at a company and. IAS teachers, instructors, and colleagues will give you all the support you need during your program. Classes include German, English, social studies and two-thirds of the classes specifically focus on subjects that are important for your future job.
Exams
Trainees have to attend an examination to assess what they have learned at school and how they have been able to apply this knowledge at the company they work for.
There will be final exams at the end of the training and as a rule, exams are held in German. After clearing the final exams, One stands a good chance of starting a successful career in Germany.
Pay during Vocational Training
Depending on occupation and region, On average a student pursuing a vocational training program, earns around 800 Euros -1150 Euros gross from the company they work for.
With each year of training, the salary will increase and part of the salary will be deducted for social security contributions and the income will be subject to income tax if one earns more than 9000 Euros.
Working for a company
After completion of training the chances of being offered a job with your company are higher.
Qualified professionals are in high demand across the German companies one can also apply to such companies
Continuing education and training:
To obtain additional qualifications you can continue with further training. This will give you the chance to specialise, to further your career or to start your own business. Which type of continuing education and training is available and most suitable for you depends on the industry and occupation you work in.
Studying:
After completing your vocational training you may also start a degree course at a higher education institution. For this purpose, you are usually required to hold a higher education entrance qualification – a school-leaving certificate that allows you to study at a higher education institution in your country of origin. There are exceptions, however: The German Meister qualification also entitles you to study any subject you like at German universities. If you do not hold the title of Meister but have worked in your occupation for several years, you may be allowed to study certain subjects that are closely related to the vocation you trained for. The best thing to do is to ask the university you want to apply to what their specific admission requirements are.
Do you want to study and work at the same time? You can do that in Germany, too. You can work and pursue a degree course in your spare time, study part-time or pursue distance learning.
1. Nursing (both Hospital as well as senior care)
2. Construction
3. Metalwork
4. Hotel & Gastronomy, cook- german art
5. Mechanical, Mechtronic
6. Roof mechanic/builder
Duration :
Maximum 6 Months of Pre Semester
3 Years of Job training with a minimum of 800 euros stipend /per month
Educational qualification:
12th completed or diploma 10+3
(One should have your school-leaving certificate recognised to apply for a vocational training course.)
Language qualification:
B1 Level Certification is mandatory
Age:
18 years – 24 Years
Steps for admission:
1. IAS Document check
2. AAF (admission acceptance form) will be sent once all documents have beenreceived by IAS
3. AAF needs to be signed by the student within a week
4. Students need to pay administration fee by the date mentioned in AAF
5. Student needs to pay course fee 3 weeks before the visa date
Documents required via Courier for the check at the ministry of education (once Step 4 completed)
1. Passport (Original of the notarized document)
2. 12th grade certificate or highest qualification (will be translated by a sworn German translator (taken care by IAS)
3. Resume in tabular form in the German language (manually signed)
Once applications are accepted by the ministry of education, work contract and admission will be prepared
What you receive before your visa date:
1. approval /acknowledgment of receipt of the ministry of education
2. admission letter for pre-program (Maximum 6 months)
3. AZUBI contract for 3 years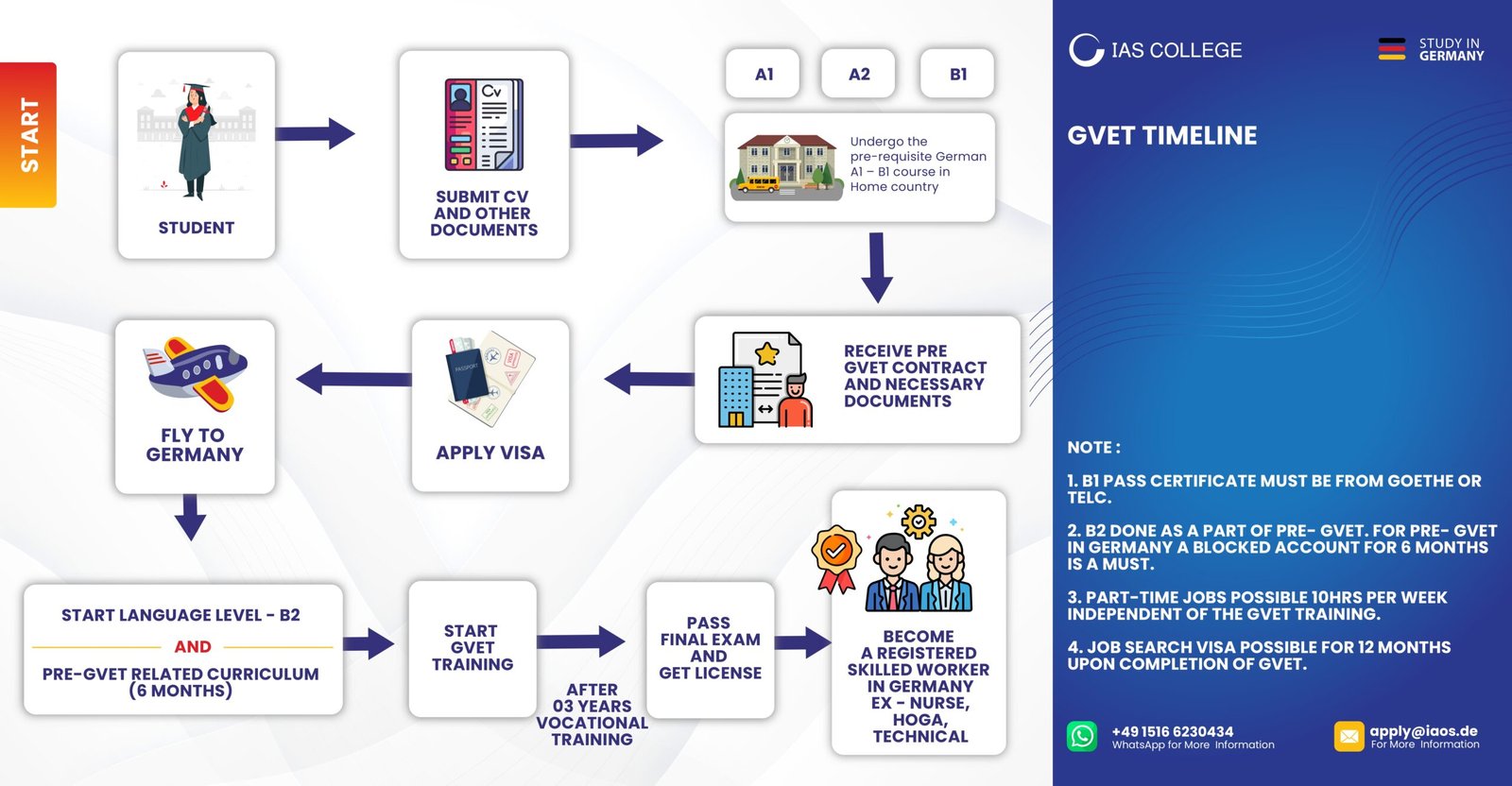 Visa for Citizens from other countries
To start vocational training in Germany you will need a visa. A Trainee can apply for a visa at the German Embassy in your country. To be granted a visa, one has to meet the following criteria:
You have found a vocational training place with a German company.

The German Federal Employment Agency has approved your vocational training because there are no German candidates or candidates from a privileged country (such as an EU country) for the respective position. Candidates holding a school-leaving certificate from a German school abroad are exempt from this provision. Furthermore, your employment conditions must not be different from those of German employees.
When applying for a visa you have to prove that you are capable of paying for your living, no matter if you are pursuing a dual or school-based vocational training course.
For further information on visa requirements and the documents you need for visa applications like German language skills, please contact the IAS Representative in your country of residence.
Language qualification:
B1 Level Certification is mandatory
Age:
18 years – 24 Years
1. Application form
2. Declaration form
3. Accommodation form
4. Notarized copy of the 10th-grade certificate
5. Notarized copy of the 12th-grade certificate
6. Notarized copy of other vocational training or further study certificate (if any)
7. Resume in tabular form with educational background 1st to 12th grade (including photo, percentage of the results of 10th and 12th grade, place, date, signature) as .doc file
8. Notarized Passport Copy
9. Passport size photo in good resolution
10. B1 certificate (needs to be available before the visa interview)
Frequently Asked Questions
Can i pursue vocational training after school ?
Yes one can pursue vocational training after school.In Germany around two thirds of all students leaving school go on to start a vocational training programme.
Is German language certificate mandatory?
Yes B1 Language Certification is mandatory
What if don't have B1 language certificate?
Apply for language course
Does IAS helps on Language training?
Yes ,contact our German Language partners in India