GVET (Hotel & Gastronomy)
The dual vocational training program in Germany comprise theoretical as well as practical elements. In Hotel & Gastronomy (HOGA) students spend 18 weeks per year at a vocational school where they acquire the theoretical knowledge that they need in their future occupation. The rest of the time they work in a Hotel, where they get to apply their newly acquired knowledge in practice and learn how their work place operates.
Employment prospects for students who have completed a dual vocational training program are very good. That is why this kind of training is very popular with young Germans: around two thirds of all German students leaving school go on to start a dual vocational training program. After passing the finals exams, students are recognized professionals in Europe and stand a good chance of starting a successful career in Germany.
Eligibility:
Educational qualification: 12th completed or diploma 10+3
(One should have your school-leaving certificate recognized to apply for a vocational training course.)
Language qualification: B1 Level Certification is mandatory
Age: 18 years – 24 Years
Duration:
Maximum 6 Months of Pre Semester
3 Years of Job training with a minimum of 800 euros stipend /month
Pay during Vocational Training:
Trainees will receive 800 Euros – 1150 Euros (monthly gross)
A) Hotel Industry Expert
Hotel Industry Experts work in all departments of a hotel business: at the reception and reservation, in sales, in Housekeeping and in stores, in customer and catering service as well as in the event department. They plan and organize the essential work processes in the hotel.
Training content:
Receiving, advising and looking after Guests

Serving food and drinks, preparing breakfast buffet

Selling and creating offers

Cleaning Guestrooms

Planning and organizing events

Developing, executing and controlling marketing campaigns

Planning personnel deployment

Managing inventory
B) Cook
Cooks perform all activities related to the preparation of food. This includes craftsmanship skills and the application of kitchen techniques as well as the planning and calculation of menu sequences. The work area also includes the preparation of menu suggestions and the advice of guests.
Training content:
Preparing food& drinks

Using professional kitchen technology and modern tools

Considering nutritional, economic and ecological aspects

Observing hygiene regulations

Presenting products

Advising Guests
Stage 1: Preparation in the country of origin (approx. 6 months)
Language course
Conclusion of a vocational training contract
Visa and recognition of certificates
Stage 2: Preparation in Germany (Maximum 6 months)
Intensive language course
Integration course & intercultural programmers
Excursions and visits of future companies
Stage 3: Dual Vocational Training in Germany (36 months)
Studying theoretical knowledge in the vocational school
Learning practical skills in the company
12 month of personal support from AGENTUR DER WIRTSCHAFT
Stage 4: Working in Germany (open end)
Automatically absorbed by the workplace or one year time to find an employment
Signing a working contract and earning a German salary
Gaining indefinite residence permit just after only two years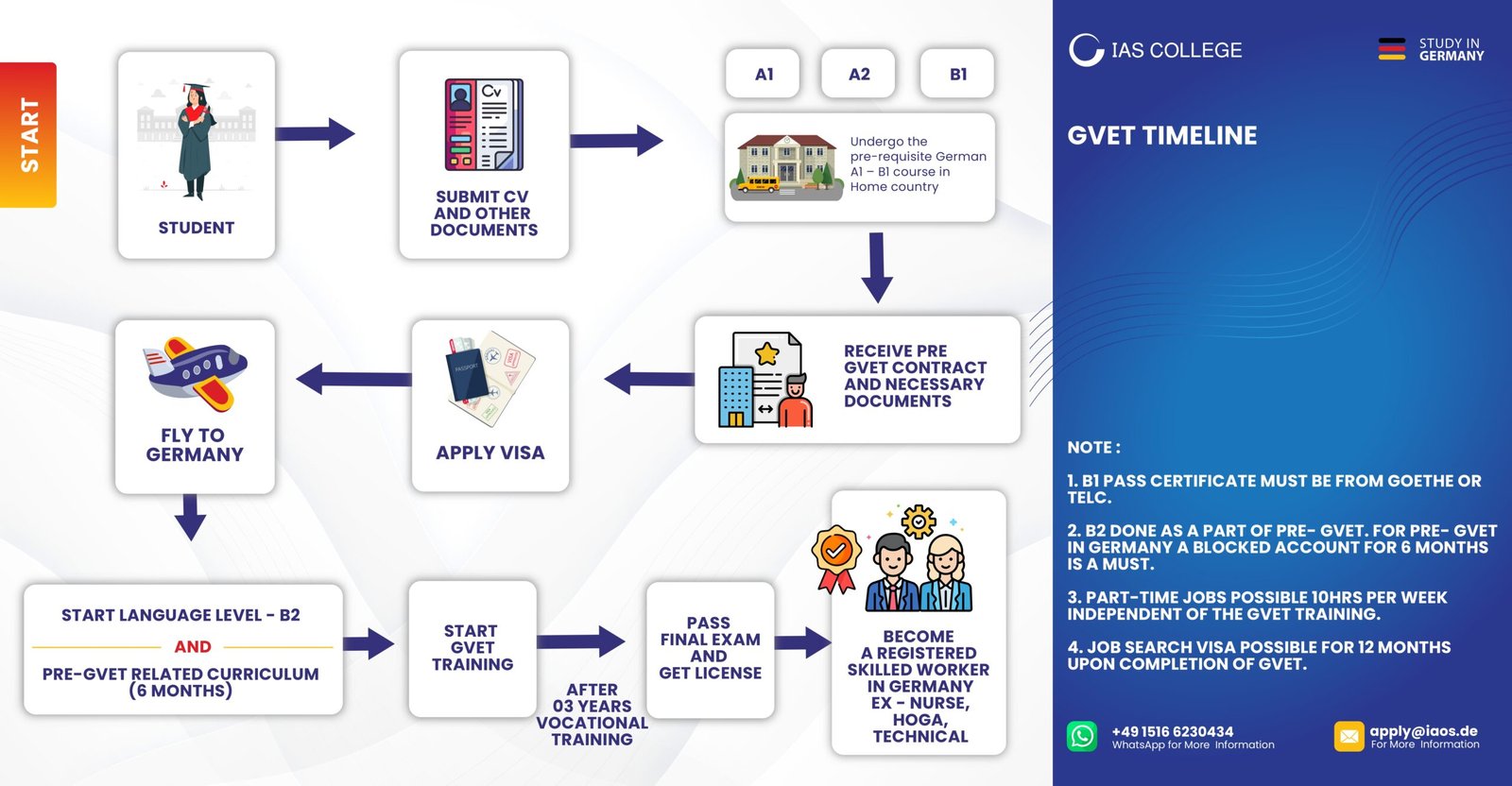 Work in the hospitality industry
Chef
Waiter/Waitress
Hotel Clerk
Specialist in Theme Gastronomy
Hotel Administrative Clerk
1.
IAS Document check
2. AAF (admission acceptance form) will be sent once IAS has received all documents
3. AAF needs to be signed by the student within a week
4. Students need to pay administration fee by the date mentioned in AAF
5. Student needs to pay course fee 3 weeks before the visa date
Documents required via Courier for the check at the ministry of education
(Once Step 4 completed)
Passport (Original of the notarized document)
12th-grade certificate or highest qualification (will be translated by a sworn German translator (taken care of by IAS)
Resume in tabular form in the German language (manually signed)
Once the Ministry of education accepts applications, work contract and admission will be prepared
What you receive before your visa date:
Approval /acknowledgment of receipt of the ministry of education
Admission letter for pre-semester (Maximum 6 months)
AZUBI contract for 3 years
1.
Application Form
2. Declaration form
3. Accommodation request form
4. Notarized Copy Of 10th Grade Certificate
5.Notarized Copy Of 12th Grade Certificate
6. Notarized Copy Of Other Vocational Training Or Further Study Certificate (If Any)
7. Resume In Tabular Form With Educational Background 1st To 12th Grade (Including Photo, Percentage Of The Results Of 10th And 12th Grade, Place, Date, Signature) As.Doc File
8. Notarized Passport Copy
9. Passport Size Photo In Good Resolution
10. B1 Certificate (Needs To Be Available Before The Visa Interview)
Frequently Asked Questions
Can I pursue vocational training after school?
Yes one can pursue vocational training after school. In Germany around two thirds of all students leaving school go on to start a vocational training program.
Is German language certificate mandatory?
Yes B1 Language Certification is mandatory
What if don't have B1 language certificate?
Apply for language course
Does IAS helps on Language training?
Yes ,contact our German Language partners in India